It's half term and the kids are already bored! Grab some fun days out in the last few days off!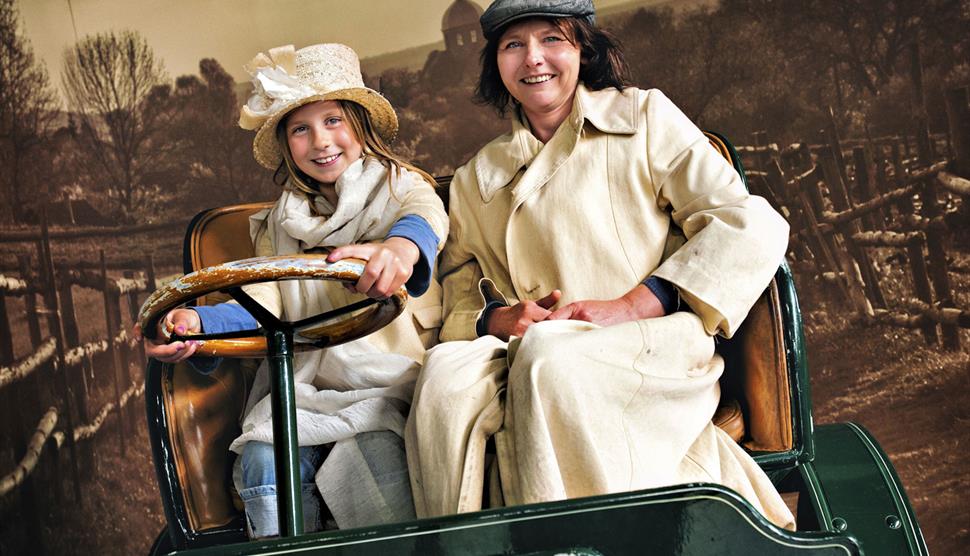 Time Travellers! Half Term Activities
Beaulieu
New Forest
Beaulieu
Hampshire
SO42 7ZN
Become a Beaulieu time-traveller this May Half-Term with themed activities all week for the whole family from a real ancient abbey to futuristic cars…
Join Beaulieu for loads of time travel themed activities this May half term 27 May – 4 June. Meet the monks in a real 800 year old Abbey, discover what life was like in the Victorian Palace House and imagine a world of futuristic cars…
Transport yourself back to the middle ages and meet Brother Peter in the Beaulieu Abbey, you can even dress as a monk and learn to write with a quill! It's a great opportunity to witness amazing medieval traditions with the archery and falconry demonstrations. Discover what life was like in the 1800's and meet the cook in the recently restored Palace House Victorian Kitchen.
Travel through time as you come face to face with genuine vehicles from each decade in The National Motor Museum before glimpsing into the future in as you design a futuristic car. All of these time travel inspired activities are included in your general admission ticket, which includes The National Motor Museum, Beaulieu Abbey, Palace House and World of Top Gear.
Jane Austen Tour and Tea
Winchester Cathedral
The Close
Winchester
Hants
SO23 9LS
About
Standing beside the grave of Jane Austen and reflecting on the life of this great author is a moving experience. This tour by specialist Cathedral guides includes insights into Jane's life and connections within Hampshire, a walk through the Cathedral Close to the house on College Street where she died and time at her grave. The guide will join the group in The Refectory after the tour where conversation about Jane Austen will no doubt continue. The ticket includes tea or coffee and a slice of cake.
Prices
Suggested donation £4 per child
About
Become an amatuer archaeologist for the morning and uncover evidence of the past at Milton Locks Nature Reserve. This is a hands-on event aimed at families with primary-aged children.
Please wear outdoor clothing and wellies. Booking is essential.
Moscow State Circus
Southsea Common, Duisberg Way, Southsea, Hampshire, PO53AP   About
The UK will play host to one of the most spectacular circus displays in the world when the renowned Moscow State Circus returns.
The world's most famous circus will bring it's latest & greatest production, Gostinitsa – a show that promises to have all the spectacle and nerve-tingling, edge-of-your-seat thrills for the whole family.
Nowhere else will you witness all the magnificent ingredients served up in this truly great show – an experience that you won't want to miss.
The Circus has been planning this event for the past two years and the artistes have been in training ready for this world-beating performance.
Award winning Clowns, Chervotkins Duo, will guide the audience through this incredible show, which features acts like the Didyk Troupe, which performs acrobatics on Europe's only double Russian swings. Flying through the air and somersaulting from one fast moving swing to another, they're sure to be an incredible spectacle.
The Alikhanov Troupe perform on two ten-metre poles balanced on one shoulder of a man. If that wasn't enough, there's not 1 but 3 girls climbing and spinning to the very top of the same pole, and then 5 people walking the high wire.
VIP Ringside: £36 adult, £32 concessions & children
Deluxe Grandstand: £30 adult, £26 concessions & children
Grandstand: £26 Adult, £22 concessions & children
Side View: £18 adult, £16 concessions & children
Rear View: £12 adult, £8 concessions & children
Country Parks around Hampshire:
Manor Farm Country Park
Feathered Friends of Manor Farm
Daily from 18 to 26 February
Join the Manor Farm team for activities, crafts and trails based around the birds that make Manor Farm their home. Make a pine cone bird feeder to take home for the birds in your garden and a chocolate bird's nest to eat yourself. Help us build a giant bird's nest, follow our bird trail and take home a bird spotting sheet to see which birds live in your garden.
Royal Victoria Country Park
Tuesday 21 and Thursday 23 February, sessions 10am to midday or 2pm to 4pm, £6 per child
Enjoy a hedgehogtastic story followed by collecting your own nesting materials. Then make your own clay hedgehog to go in your nest. Suitable for 3 to 8 year olds. All children must be accompanied by an adult.
Queen Elizabeth Country Park
Monday 20 to Friday 24 February, 10am to midday, £10 per child
Start with a craft, then through to the visitor centre for circus workshop with Juggling Jake, then take a walk in the park following our circus trail.
Staunton Country Park
Saturday 18 to Sunday 26 February, 10.30am to 3.30pm
Join the Education Team for farm themed arts and crafts, fantastic farm yard face painting and animal encounters. Plus, explore the Tractor Trail.
Lepe Country Park
Saturday 18 February to Sunday 26 February, no need to book
Pick up a trail card from the park office anytime between 10am to 3pm and return with the correct answers to claim your prize. Cost: £2 per child.
Lepe Country Park is leaping forward with exciting changes on site. Read all the details in the latest Lepe Country Park blog.
Titchfield Haven National Nature Reserve
Saturday 18 February and Sunday 19 February, 10.30am to midday and 2pm to 3.30pm
Join an experienced birdwatcher in a hide and find out more about the birds visiting the Nature Reserve at this time of the year. A volunteer will be in one of the key hides on the reserve with a telescope, offering advice.